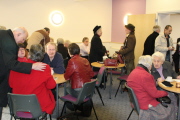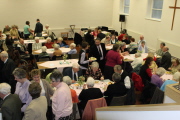 Fellowship
For more information about any of our Fellowship Groups that are listed below, please do not hesitate to contact us.
Choir
Leads the singing at Sunday Worship and special services/presentations. Rehearsals are held on Wednesday evenings. (Currently suspended due to Covid-19).
Together Group
A group for Ladies that meets fortnightly on Thursday afternoons for fellowship and a varied programme of activites/speakers.
Snack Attack
The Coffee Lounge is open on Fridays from 10.30 a.m. to 1.00 p.m. for refreshments and fellowship. Refreshments on sale comprise coffee, tea, biscuits, toasted teacakes and bacon/sausage/egg sandwiches
Prayer Meeting
A Prayer Meeting is held on Friday mornings at 10.30 a.m..